Lovely Soulful Righteous Singer

Odetta

passed at the age of 77. You Gotta Love her, and she was raised in CALI ! Odetta became a force of the folk music revival in the 1950s. In the 1960s her renditions of spirituals and blues became part of the soundtrack of the civil rights movement .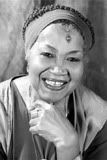 READ MORE ON HER AND a very INSPIRING INTERVIEW
HERE: NEW YORK TIMES
She gave us a strong experience of how it was like in the 50's as an African American, and the ideal that blacks were not worth anything. smh.
More Odetta